Welcome to the Whitsunday Islands, a tropical paradise in the heart of the Great Barrier Reef!
These islands are home to some of the world's most stunning beaches and crystal-clear waters, making them an ideal holiday destination for those seeking relaxation and adventure.
Whether you're looking to take a dip in the warm waters or explore the vibrant coral reefs, there's something here for everyone.
Prepare to sail away into an unforgettable experience on these breathtakingly beautiful islands!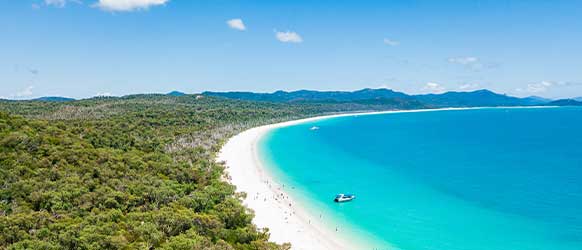 Exploring the Pristine Beaches of the Whitsunday Islands
Explore the stunning beaches of the Whitsunday Islands and get a taste of paradise!
From Whitehaven Beach, renowned worldwide for its soft silica sands and calm waters, to Catseye Beach on Hamilton Island, where you can spot turtles and other wildlife, there's a beach in the Whitsundays for everyone.
Enjoy island hopping, kayaking tours, camping trips or cultural activities while you take in these postcard-perfect views. You can also take advantage of snorkelling opportunities around Bettys Beach or Chalkies Beach to catch a glimpse of colourful coral reefs.
For those looking for more adventure, Turtle Bay on Whitsunday Island offers five beaches with great spots for swimming and snorkelling and breathtaking views. Don't forget to check out Langford Sandbar for its turtle population or Mays Bay for wildlife spotting and paddleboarding.
Finally, end your journey at Boathaven Beach in Airlie Beach, where you can relax after exploring the pristine beauty of the Whitsundays.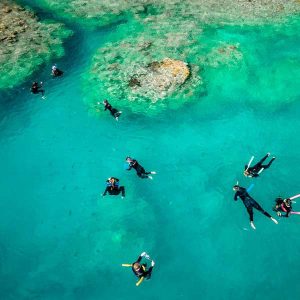 Snorkelling and Diving in the Crystal-Clear Waters
Dive into the crystal-clear waters of The Whitsunday Islands and explore the vibrant coral and marine life with snorkelling and diving opportunities available. Whether you decide to take a kayaking tour, go island hopping, beach hopping, or wildlife spotting, you can experience some of Australia's best local wildlife in their natural habitat.
Snorkel gear is available for hire from various suppliers before departing on a day trip, while stinger suits are also provided if needed. Day tours offer snorkel gear and even the chance to scuba dive if that's something you wish to try!
Stonehaven Bay has two great snorkelling sites with vibrant coral and marine life, while Luncheon Bay offers easily accessible reefs right off the beach. Mantaray Bay is one of the most popular spots for local tour guides, where Manta Rays can be spotted during winter months. Hardy Reef is also worth exploring with its permanently moored pontoon offering access to many beautiful underwater ecosystems. Chalkies Beach opposite Whitehaven Beach is a quieter area but still home to stunning coral formations and plenty of friendly turtles waiting to be discovered!
Here at The Whitsundays, we provide tips on what to look out for when snorkelling and arrange locations by distance from Airlie Beach, so planning your adventure won't be any trouble!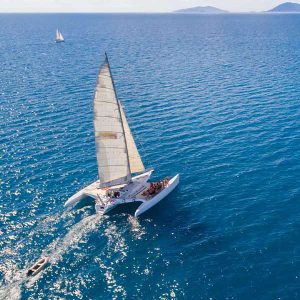 Sailing Adventures in the Whitsunday Islands
Experience a sailing adventure like no other and explore the picturesque bays, coves, and reefs of Queensland's stunning coast. The Whitsundays is the perfect destination for anyone seeking an unforgettable experience. Activities such as yacht charters, night sailing, wild dolphins, coastal hikes, and romantic sunsets all on offer.
Visitors can choose from many different types of boats available for charter , including catamarans and monohulls. Whether you prefer to charter a boat with a skipper or sail yourself, you'll be spoilt for choice with all the anchorages on offer in this tropical paradise.
Overnight tours are also available and there is a range of backpacker boats to upmarket small vessels with private rooms. See our latest deals here 
And if you're looking for some snorkelling or diving while you're there, then you won't be disappointed either. Enjoy crystal-clear waters brimming with diverse marine life, such as turtles, dolphins, and whales!
With warm weather year-round and plenty of bars, restaurants, and cafes, it's easy to see why The Whitsundays is a popular destination amongst families, couples, and groups of friends. So come join in on this exciting adventure today!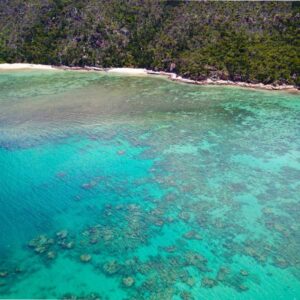 Discovering the Stunning Whitsunday Islands Coral Reefs
Exploring the awe-inspiring coral reefs of this tropical paradise will captivate your senses and bring a sense of wonderment to your soul.
The Whitsunday Islands are home to a vibrant array of multicoloured corals, including pillar coral, plate coral, brain coral, cabbage coral, stag horn coral, boulders, soft corals, anemones and many others.
A wide variety of fish species also inhabit the waters here; damsels, fusiliers, butterflyfish, rabbitfish, flute fish, parrotfish, angelfishes, wrasses, trout, cods, groupers and more.
You can take advantage of kayaking tours or wildlife spotting trips to get up close and personal with these creatures.
When you're not busy discovering the beauty beneath the surface, you can enjoy some camping trips on secluded beaches or seafood feasts in beachfront restaurants as you watch the sunset over the horizon.
With sunset cruises available too, there's plenty of opportunity to relax and explore this amazing part of Australia.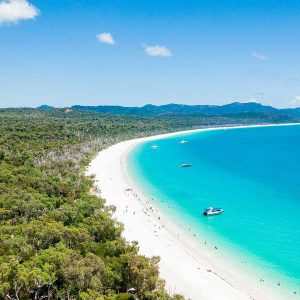 Whitehaven Beach: A Breathtaking View
Behold the breathtaking beauty of Whitehaven Beach, with its crystal white sand and turquoise waters – a stunning sight that will captivate your senses.
Located on Whitsunday Island in Queensland, Australia, it's accessible by boat, seaplane or helicopter from Airlie Beach and Hamilton Island. You can explore the beach's 98% pure silica sand by going tidepooling, take a boat tour to spot native wildlife, go island hiking or enjoy sunbathing on the beach.
The National Parks camp facilities are available for those wanting to extend their stay and experience camping at its best. There are also tour barbecues and other amenities provided on the beach.
With its award-winning cleanliness and eco-friendly atmosphere, Whitehaven Beach is perfect for visitors seeking an escape from their daily grind with a memorable outdoor experience.
Frequently Asked Questions
What is the best time of year to visit the Whitsunday Islands?
The best time to travel for weather conditions, wildlife spotting, beach hopping, snorkelling tours, and cultural heritage is between April and November. Enjoy warm sunny days with fewer crowds and more opportunities to explore your desired activities! Make the most of your trip and enjoy a sense of freedom away from daily life.
What is the best way to get around the islands?
Explore the Whitsunday islands by chartering a boat, island hopping, or taking a tour package. Enjoy ferry services and water sports too! Discover freedom as you explore, taking in the sights and sounds of each unique island.
Are there any accommodation options available?
Yes! Many accommodation options are available. From luxury resorts to budget-friendly hotels on the mainland – you're sure to find something that fits your freedom desires.
Are there any activities suitable for children?
Experience adventure tours, wildlife watching, kayaking trips, snorkelling excursions and beach camping! These activities are perfect for children who love exploration and discovery. Enjoy the freedom of nature and create memories that will last a lifetime.
Are there any guided tours available?
Yes, you can find guided tours of the area. Try snorkelling tours, fishing trips, island hopping, sailing charters or helicopter tours for an unforgettable experience! Enjoy the freedom to explore and discover something new.
Conclusion
You've explored the Whitsunday Islands and experienced its breathtaking beauty. You've snorkelled and dived in crystal-clear waters, sailed through its islands, and admired its stunning coral reefs.
Whitehaven Beach is one of the most beautiful beaches you'll ever see. Now that you have seen this paradise for yourself, you can understand why it's such a popular destination.
So don't wait any longer – book your trip to the Whitsundays today and let the adventure begin!